GW Men's Rowing
Welcome to the Official site of The George Washington University Men's Rowing Team.
This site is built and maintained by alumni and current student-athletes and serves as a home base for all news, events, and information about GWMR.
GW has over 60 years of rich rowing tradition in the nations capital having been both Club and Varsity during its time in operation.
Donate to the team below
All donations go directly to the team to help support current student athletes and fund the ongoing season.
If the donation box below does not load, please follow this link instead.
1956 through Today
Until 2006, GW was a mix between a club program and varsity program who would usually race at the Dad Vails regatta. In 2006, Men's Rowing was accepted into the EARC Sprints League and make the leap to race against the top programs in the world. 3 years later in 2009, GW would qualify for the IRA National Championship in the V8 for the first time to test their mettle against the best of the best.
The top 12-13 teams out of 18 in the EARC Sprints League will typically qualify for the IRA National Championships. GW has qualified for the IRA every year since 2012.
Most notably, the Men's First Varsity Eight, the premier event at the IRA with top athletes from every school, finished 13th overall in 2019 - the best finish in team history. There are over 50 competitive varsity eights in the country.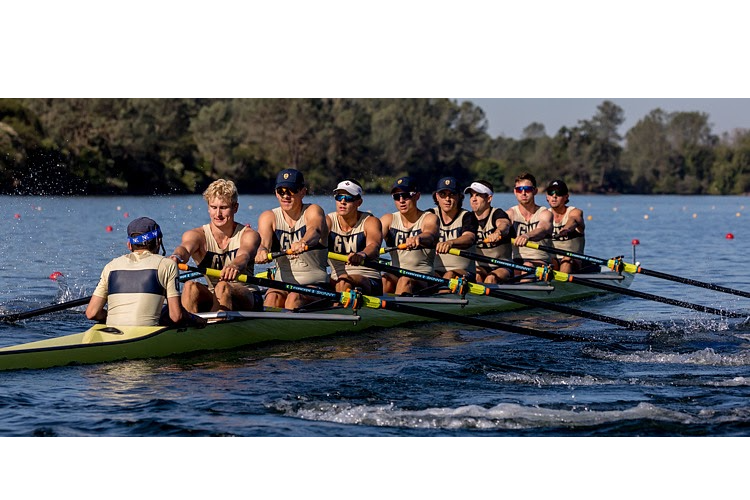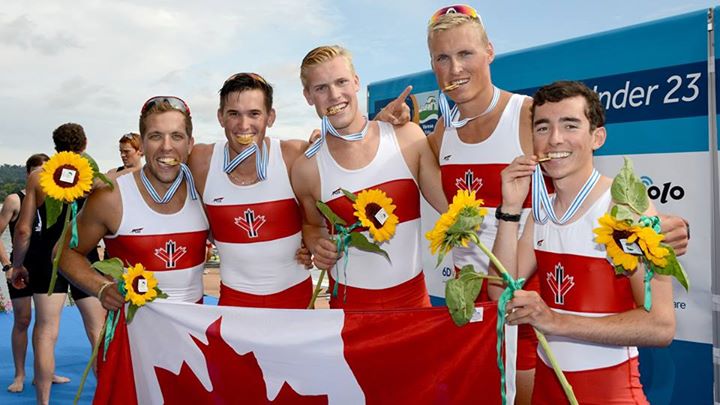 Trofym Anderson '14 pictured on the far left after having won Gold in the coxed four event at the Under-23 World Rowing Championships in Varese, Italy.
21st Century Growth
In 2012, GW put more of an emphasis on international recruiting as freshman were able to row in the Varsity 8 starting in 2013. GWMR proudly recruited members from Australia, Canada, and the UK, amongst others, bringing an international presence to DC.
The 2010's were some of the strongest years in the program's history.
I learned a lot about chemistry at GW. I learned a lot about journalism. But what I learned the most from was my four years on the rowing team. Leadership. Focus. Assertiveness. Teamwork. Goals. Sportsmanship. Attention to detail. Interpersonal relations. Self-esteem. Dealing with adversity. Determination. Rowing was the best part of college for me. And rowing became a lifelong sport for me, which I have now participated in for 38 years. I can't imagine what my life would look like if I had not encountered rowing at GW, but I am sure that my professional and personal lives would be far less successful and happy. Lee Silverberg, CCAS 1986
Work hard, endeavor to be better each day, elevate others before self, and create community wherever you go...These are the principles that I learned as a member of the GWU Men's Rowing Team, and these were the principles that took me to the Olympics in 2004. Aquil Abdullah, CCAS 1996
I have given every fiber of my being into this rowing program, athletic department, and this school—Every single generation of GW men's rowers has since 1956. Whether it be a practice on the Potomac, an erg session in Smith Center, or the IRA National Championship race in California, representing The George Washington University was one of the greatest honors of my life. I am so proud of this school and I am grateful for the opportunity to be a student-athlete here. Luke Ames, CCAS 2022
In addition to being the most tight-knit mental and physical support group in my life, the team has taught me that excellence, dedication, and focus will lead to success. The skills that coach Gehrke teaches us are directly translatable to other facets of life, and serve as a guiding tools in decision making. The program not only impacts me, but those around me who dedicate themselves to supporting the brightest, most athletic, and most dedicated young men and women on campus. The influence of our team runs deeper in the world than one could imagine, with proud alumni coming up to me in the streets of Boston asking me how the program is doing. Like them, to the day I die I will support this team with honor and pride. Gaspard Cuvelier, CCAS 2023